Experience the Southern Ocean and
TRAVEL WITH OCEAN EXPEDITIONS
Ben Wallis operates an international charter service with the fully equipped 75′ steel-hulled motor sailor Australis – a purpose-built vessel for high latitude expedition sailing.
Australis is based in the Southern Hemisphere and is configured for both hard working commercial projects and laid-back luxury cruising.
She is fully equipped to support expeditions, film crews, scientists, photographers, mountaineers, skiers, snowboarders, artists, bird watchers, divers, sightseers and adventurers of all descriptions.
In addition to all the luxuries of a well-appointed cruising vessel, Australis has large storage areas for equipment and a workshop.  She carries 9 passengers plus the Ocean Expeditions crew and is registered as a commercial "Category 0 (zero – Unrestricted)" vessel.  Click here to read more about our services.
Ben operates year-round bouncing between the summer in the southern polar region during October to April and the summer in the northern polar region during July to September. 
Click here to find out about our destinations or contact Ben with your trip suggestions to other parts of the world.
We focus on four main categories of expeditions.
Australis has a satellite tracking device fitted so if you have family and/or friends onboard you can track their progress during the voyage anywhere in the world.
Click here to track Australis
The Vessel
Take a Look at Our Vessel
Our Blog
What Is New At Ocean Expeditions
Science to help steer policy for marine protected areas in Antarctica Five years ago, at a conference in Barcelona, the seed was planted for an expedition to explore the number of species types in the West Antarctic Peninsula operating from our research vessel 'R/V...
Ocean Expeditions facilitates scientific expedition and rare-sighting of Type D Killer Whales off Cape Horn, Southern Chile In January, Ocean Expeditions hosted a group of international whale research scientists onboard research vessel 'R/V Australis' in search of...
Testimonials
What people are saying about Ocean Expeditions
Stunning, amazing, incredible, extraordinary experiences that had me bursting with excitement at every adventure encountered. My thanks to the awesome team who made this journey so unbelievably fantastic and looked after us beyond expectation.
Michelle Barry
Guest
Australis crew is spot on in every regard. From exceptional customer service to care of the gear to willingness to be flexible and make the most of the time down south, they are the best overall team yet in my view.
Colby Brokvist
Guide, Natural Habitat Adventures
There are lots of ways to see Antarctica, if you want to experience Antarctica – the Australis is the dream maker. Thank you, Ben, for providing "The Trip" I will think about for the rest of my life.
Abe Quigley
Guest
Thank you again for a great experience and professional service.
Lydia Bradey
Mountaineer, ONZM, Antarctic Peninsula
I can never thank you enough for your kindness, cheerful good humour and great work ethic
Jill Swann
Guest
Thank you and your team once again for your support on our recent Type-D Killer whale expedition. Our overwhelming success was due in large part to your skill and experience in the waters off Cape Horn and further south – we simply could not have done it without your expertise.
Bob Pitman
NOAA Fisheries, Antarctic Ecosystem Research Division
Thank you for all you endless knowledge over the past month.
Marlee Tucker
University of New South Whales, Evolution & Ecology Research Centre
Thank you for all you did to make The Bachelor King a success.
Sias Wilson
Line Producer, Atlantic Productions. The Penguin King 3D
A huge THANK YOU to you Ben. You were a superb skipper and enjoyed not only working with you but your company. I would love to do future projects with you.
David Hempleman-Adams
Cold Climates
The Australis team created an incredibly welcoming home during our filming shoot. With an extensive knowledge of the area Ben was able to put the boat into highly challenging areas allowing us incredible access to film remote locations. The Australis team also have a broad knowledge of working with a variety of film crews and kit so always were accommodating to what was needed for the shoot. The meals on board were some of the best Iv had on any shoot. Exactly what you need after a long day filming outside.
Duncan Parker
Camera man, Natural History New Zealand
This was a demanding seven-week expedition on a high-profile film project for National Geographic. Australis was the PERFECT platform for our 5-person team & our 38 cases of equipment. The ship accommodated our large jib, drones, dive operations and gyro-stabilized shooting platform with ease. With Capt. Ben at the helm, always willing to go the extra 10 yards, we captured incredible footage, achieved all of our objectives & exceeded all our expectations. Australis is small enough to move around quickly & big enough to be safe and comfortable. More than just a work trip, Ben & his crew helped make this the experience of a lifetime.
Brian Armstrong
Red Rock Films, National Geographic - Secrets of the Whales
Great time and excellent science all along! Thanks again Ocean Expeditions for all your help and the success of this mission ! Congratulations to all of you for your work and contributions, it was a great team effort, historic!
Henri Robert
Royal Belgian Institute of natural sciences
What else I can say, if not for your invitation none of these good news would have happened, so thank you again and the time invested.
Jorge Acevedo
Instituto Antártico Chileno
Thank you again for the opportunity of letting us collect this data and we will keep you abreast of how it all does.
Tracey Rogers
University of New South Whales, Evolution & Ecology Research Centre
It was an awesome trip !!! Thanks
Goran Thulin
Guest
Thank you for an unbelievable team effort
Marshall Corwin
Series producer, BBC TV, Serious Oceans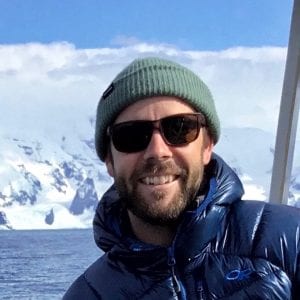 The crew was very resourceful and always worked to accomplish the goals of the film production and the Australis is an incredible work boat. It's comfortable yet capable of handling diving, topside filming and drone work at the same time. It was one of the best live-aboard shoots I've been apart of and that's all thanks to the Australis, Ben and it's crew. Thanks for the amazing adventure to Antarctica!
Hayes Baxley
GSS camera man, Drone Pilot, Red Rock Films, National Geographic